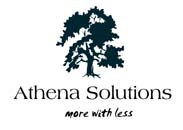 Welcome to Athena Solutions
Analysis, reports, planning, implementation, review
The current economic climate requires that all organisations do 'more with less', managing costs while improving performance. We enable this through complete enterprise solutions for all sizes of clients. We offer business planning and process improvement, and solutions for employment and employee development. We work with your organisation to increase its capacity and self-sufficiency.
Supporting community enterprises with community engagement, strategic and business planning, moving projects from vision to delivery. We have an innovative approach to funding, looking to models such as cooperatives and community benefit societies to increase financial sustainability.
Who we are
Hazel Allen, CA, LlB has 18 years' experience in the private and public sector in the UK and the US, providing financial analysis, process improvement, and business planning services. More...